Jamuna Group Job Circular 2023-jamunagroup.com.bd
Welcome to Jamuna Group Job Circular -jamunagroup.com.bd Jamuna Group Job Circular -jamunagroup.com.bd has been published. It's a huge opportunity to unemployed people, who want to do in this sector. Jamuna group job circular 2020 is the most popular group in Bangladesh. To get Jamuna group job circular 2020 related all information, you ca visit my website that isJamuna group think that young and energetic people is the key to success in this sector that create brightness in Jamuna group.
Jamuna Group is one of the largest Bangladeshi industrial conglomerates. The industries under this conglomerate include Textiles, Chemicals, Leather, motor cycles, Consumer products, Media, Advertisement etc. Jamuna group help's to the social economy. Jamuna group offer to people for exciting career opportunities. Educational qualifications are too much important for this job. Jamuna group job circular has been converted to an image file. If you want to apply for this job, you should submit your application within short time. Jamuna group job circular has been given below
Jamuna Group Job Apply 2023
Jamuna Group has realized a career opportunity. We Publish all job Circular Every day, Such as Government Jobs in Bangladesh, Bank Jobs in Bangladesh, Privet Jobs in Bangladesh, International NGOs in Bangladesh, Privet companies in Bangladesh, Privet universities Jobs in Bangladesh. Bank Jobs Results, Government Jobs Results, Government University Jobs results in Bangladesh and all Part-time Jobs in Bangladesh and other educational support are available here on our website. We provide different types of job information with also provide some useful information or resource and job tips which helps to get a job easily. For example next update about update jobs circular Notice.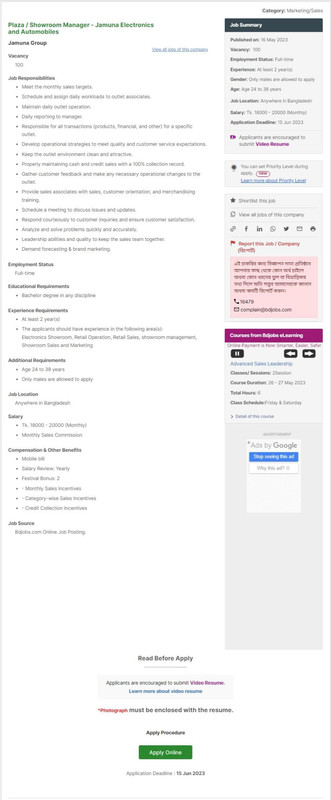 প্রকাশের তারিখ : ১৯ মে ২০২৩
আবেদনের শেষ তারিখ : ১৫ জুন ২০২৩
আবেদন করছে : এখানে ক্লিক করুন

Company Information
Jamuna Group
Address :
Jamuna Future Park, Ka-244, Progati Sarani, Kuril, Baridhara, Dhaka-1229
Business :
As an evolving private company that has continually grown within the competitive industry in Bangladesh, Jamuna Group possesses high values, but the most crucial value of the company is its human resources. The name, Jamuna group is inseparably associated with the name of Mr. Md. Nurul Islam, an architect a pioneer ultimately an Industrial leader in the private sector. He heralded the Jamunas appearance in the arena of private industrial sector in 1974 with the mission and vision of building newly independent Bangladesh as a happy and prosperous country. Jamuna started its journey with the Jamuna Electric Manufacturing Co. Ltd in 1974 and it pioneered the manufacturing electrical accessories and fittings in Bangladesh since 1975. To maintain its competitiveness in todays globalized modern market, Jamuna introduced the best technology along with machinery and expertise in Bangladesh. Jamuna developed and expanded its enterprises of multi-dimension for diversifying its product range. In course of 34 years of operation Jamuna Group expanded into a giant dynasty of 24 large scale SBUs. From textile to real estate, Jamuna Group has diverse business interests. The Group has ventured into electrical, engineering, chemical, leather, garments and textiles- including spinning, knitting and dyeing, cosmetics, toiletries, beverages, real estate, tyre, housing, print and electronic media sectors.
Please click at the respective job title to view details