ICB Islamic Bank Limited Job Circular 2023
 ICB Islamic Bank Limited Job Circular 2023: Empowering Careers in Islamic Banking
Introduction:
ICB Islamic Bank Limited, one of the leading Islamic banks in the country, has announced its highly anticipated Job Circular for the year 2023. This circular presents an excellent opportunity for individuals aspiring to build a rewarding career in the dynamic field of Islamic banking. With its commitment to ethical banking practices and innovative financial solutions, ICB Islamic Bank Limited seeks to attract talented professionals who are passionate about contributing to the growth and development of the Islamic banking sector.
Empowering Opportunities:
The Job Circular of ICB Islamic Bank Limited offers a wide range of opportunities for candidates from various educational backgrounds and expertise. From entry-level positions to managerial roles, the circular encompasses vacancies in areas such as retail banking, corporate banking, finance, risk management, marketing, and human resources. Whether you have a background in banking, finance, accounting, or related fields, ICB Islamic Bank Limited provides a platform to showcase your skills and grow professionally in a Shariah-compliant environment.
Ethical Banking Principles:
ICB Islamic Bank Limited operates based on the principles of Islamic Shariah, which emphasize transparency, fairness, and social responsibility. Joining the bank means embracing these principles and being part of an institution that adheres to ethical banking practices. Islamic banking offers a unique approach to finance, focusing on profit-sharing, asset-backed transactions, and avoiding interest-based transactions. As an employee of ICB Islamic Bank Limited, you will have the opportunity to contribute to the growth of an industry that aligns with Islamic values and principles.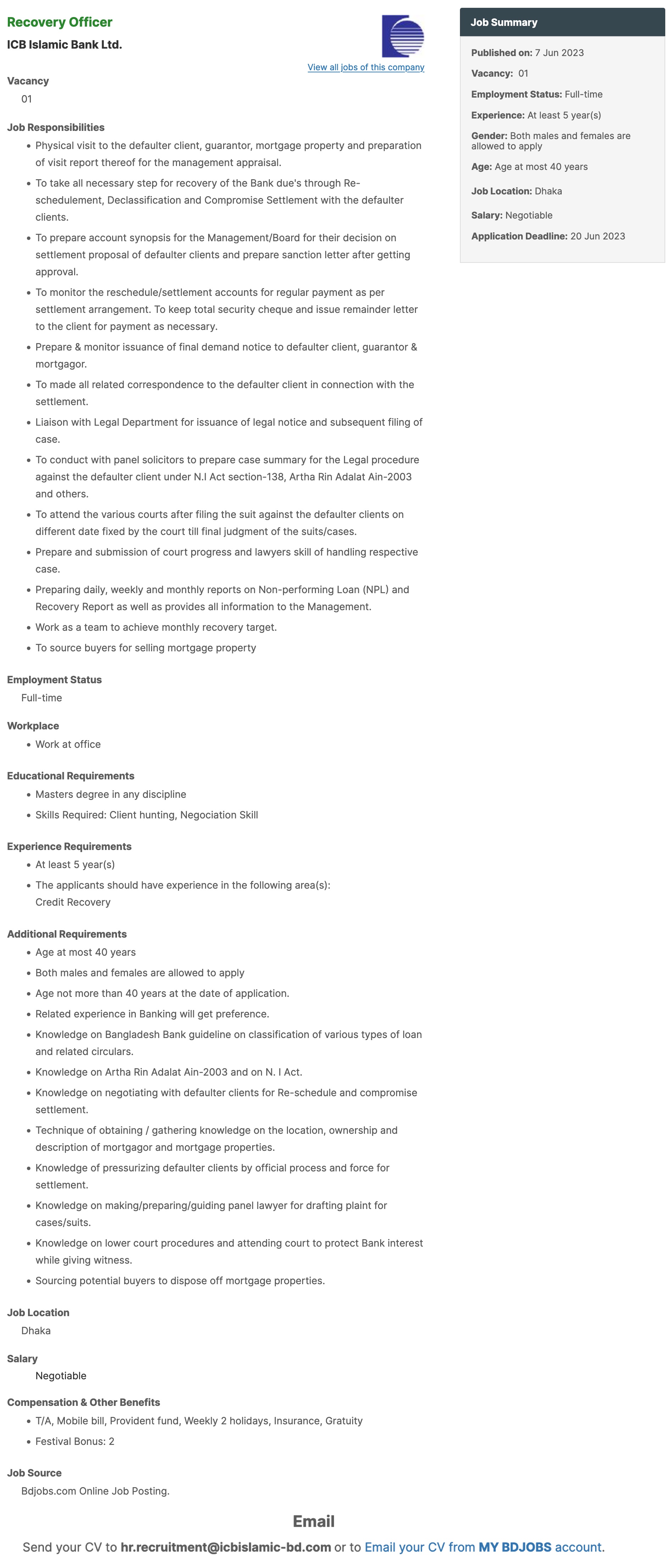 Professional Growth and Development:
ICB Islamic Bank Limited is committed to nurturing the talents of its employees. The bank provides a conducive working environment that encourages continuous learning and professional development. Through training programs, workshops, and mentorship initiatives, employees are equipped with the skills and knowledge necessary to excel in their respective roles. The bank also promotes internal career progression, providing opportunities for deserving individuals to take on leadership positions and advance their careers within the organization.
How to Apply:
To apply for positions advertised in the ICB Islamic Bank Limited Job Circular 2023, interested candidates should carefully review the circular and follow the application guidelines provided. The circular outlines the eligibility criteria, application process, submission deadlines, and contact information for inquiries. Applicants are encouraged to submit their applications within the specified timeframe, ensuring that all required documents are included.
Conclusion:
The ICB Islamic Bank Limited Job Circular 2023 offers an exciting opportunity for individuals who are passionate about Islamic banking and seeking to build a career in a reputable and progressive institution. By joining ICB Islamic Bank Limited, you will be part of an organization that upholds Islamic principles, fosters professional growth, and contributes to the development of the banking sector. If you are driven, innovative, and eager to contribute to the growth of Islamic finance, don't miss the chance to apply for the positions outlined in the Job Circular. Empower your career with ICB Islamic Bank Limited and become a part of the thriving Islamic banking industry.